Either you found a baby robin that's fallen from its nest, or perhaps you're just curious and asking what do baby robins eat?
Well, here's the guide on what baby robins eat, and if the need arises then how to feed one. So first let's give you the quick answers, then we'll get into more details…
How do baby robins eat? During the first week, the parents regurgitate partly digested food into the baby's mouth. As they grow they eat a variety of food from earthworms, to whole worms and large insects, and even berries until they fledge to finally fend for themselves.
How do you feed a baby Robin? To feed a baby robin you can use a dropper, clean hands, or let the babies feed themselves when they become independent enough. Once released they will naturally be able to hunt for food and feed themselves.
Read on, or watch the video below from the Ranger Planet Youtube Channel.
What do baby robins eat and when
Baby robins are just that – babies, at first, and depend wholly on their parents for food.
However, what baby robins eat during the very first few days and onward changes as time goes by – and fairly quickly too.
Here's the list of what baby robins eat at each growth stage. But if you're looking to protect your baby robin, then be sure to check what eats robins to know what might want to prey on them. You might also be interested to know if it's legal to keep a robin as a pet?
1 – 7 Days – baby robins eat…
When baby robins are with their parents, the parent robins forage for food for themselves, but also gather enough to feed their young.
The parent regurgitates this partly digested food into the baby's mouth. This is the only way that baby robins eat and are fed during the first week from birth.
This includes partly digested insects, beetles, worms, berries, and seeds
7-14 days – baby robins eat…
Around this time, the parents pass larger portions of food or break up larger ones such as earthworms and deliver into the baby robin's mouth.
From here onwards the baby robins start eating more with each passing day.
Whole versions of insects, beetles, worms, berries and seeds.
After a period of this, the parents begin to let the baby robins eat the whole worm and other large insects on their own.
By this time a baby robin will be able to eat the equivalent of 14 feet of earthworms during its two-week nest life.
14 days plus – baby robins eat…
From this point, more often than not baby robins are able to eat food provided to them by the parents that are just placed in the nest. The baby robin is old enough to find and eat the food themselves within the nest.
In general, baby robins depend on the parents fully for their daily dose of food, until they are independent enough and can fledge the nest and fly away.
On average, the parent robins can make up to 100 visits a day to feed their young ones – that just shows how often the baby robins eat to grow up.
This is also why robins are very picky in choosing a territory to create their nest. They need to ensure they live close to adequate food sources to make the hunt for food and feeding visits often and easy.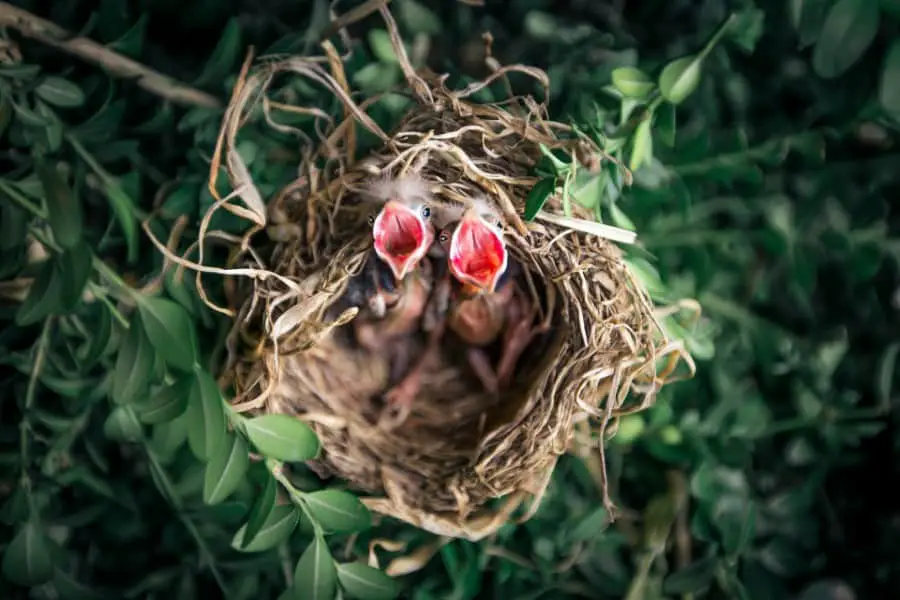 You might also like:
So let's move on to how you would feed a baby robin.
How to feed a baby robin?
If you're in the situation where you have a baby robin you need to take care of and hand rear, perhaps one that fell from the nest or lost its parents. Then naturally, there are plenty of things you will have to know about feeding baby robins – let us give you some guidance.
There are, thankfully, many ways and methods that have worked to feed baby robins, below are three safe methods to feed a baby robin.
1. Using a syringe to feed a baby robin
You can use a syringe, like this one, or an eyedropper to feed baby robins. For this method, the best food would be to get a baby bird formula mix.
With this formula, use the syringe and simply follow the instructions for feeding.
Alternatives to baby bird formula
Instead of a bird formula mix, you could even use baby formula or wheat cereal like farina. Or at a push, you might be able to soak dried dog food which has been known to feed baby robins quite well.
However, when feeding these products be sure to still use the syringe or dropper. Try to make sure the products are mushed down enough to pass through the dropper without getting blocked.
At first, one or two full droppers will almost certainly fill the baby robin, but as they grow they'll likely need more of it – and potentially more often. Being a robin parent is a demanding job!
The baby robin will let you know when it's full, usually when it's hungry or wants more food it opens its mouth automatically.
Be aware of this too, do not try to feed the robin when it is not asking, as you can easily overfeed them, which is just as risky as not feeding them.
So it's important to observe if the bird is full or not before trying to encourage them to eat further.
2. Using your hands to feed a baby robin
Hands can also be used to feed baby robins. Moistened duck or chicken feed that are processed well with an even texture can also make some good reasonable food baby robin food.
When using the hands it's important to be hygienic. Not only when feeding but also while making the food using the hands or when handling the bird. 
To feed a baby robin using your hands, take a tiny pinch of food and stick it to the tip of the finger and all you have to do is touch the corner of the bird's mouth.
The baby robins will automatically open their mouth and you shouldn't have any trouble passing it into their beaks.
Another great thing about using hands to feed baby robins is that you will get a good sense of when to stop because the baby robin will stop opening their mouth when they feel full, unlike droppers which can be inserted into the mouth anyway – even if the bird is already full. 
3. Allow the baby robin to feed on its own 
If you get to this point then congratulations, or if the bird already has some plumage and appears to be an older chick.
This method works mostly when the baby robin is a little more grown-up and can handle the food on their own.
This is a method that allows the baby robins to feed themselves by placing the food on the ground next to them.
For this, offering small berries, or using mealworms, earthworms, or grubs near the ground next to where they rest will work fine.
This will also allow the birds to come and feed whenever they feel hungry. On average baby, robins may have to be fed every 5-10 minutes at peak times.
When feeding baby robins, make sure that…
The food is at room temperature. Even if the food is refrigerated, it's important to make sure the food is at room temperature when feeding the baby robins.
Make sure the food is not spoilt, has no fungus or bacteria when feeding. 
The food should have a fine texture and even toward slushy, but smooth enough to get through the delicate throats of baby robins. 
Up to three weeks old, the baby robins will be grown up enough to find their food. So by this time, it's good to allow the baby robins to eat of its own accord and just make sure food is available.
Then one day, they will fledge and fly away. And you can smile in the knowledge you probably just saved a wild bird's life. If the baby robin does not survive, then it was never meant to be, and at least you provided it with some comfort and the best chance of survival.
So finally…
We hope this has been useful in answering the question – what do baby robins eat? And hope you've been able to put the help on how to feed one to good use.